About your graduation ceremony
Location and Time
Convocation cemeronies will take place at the Living Arts Centre, 4141 Living Arts Drive, Mississauga.
All convocation ceremonies will be held at The Living Arts Centre, 4141 Living Arts Drive, north of City Centre Drive in Mississauga, Ontario.


Refer to the schedule to determine the convocation date and time for your program.


Please arrive at the Living Arts Centre at least one hour prior to your scheduled ceremony in order to receive your convocation robe and to be lined up to participate in the convocation processional. Be sure to give the guest tickets to your guests.


Proceed immediately to the Robing Room when you arrive.


Guests must be seated 20 minutes prior to the ceremony start time. Guests arriving after this time will be seated in an appropriate break in the ceremony.
Refreshments
Light refreshments will be served immediately following the ceremony.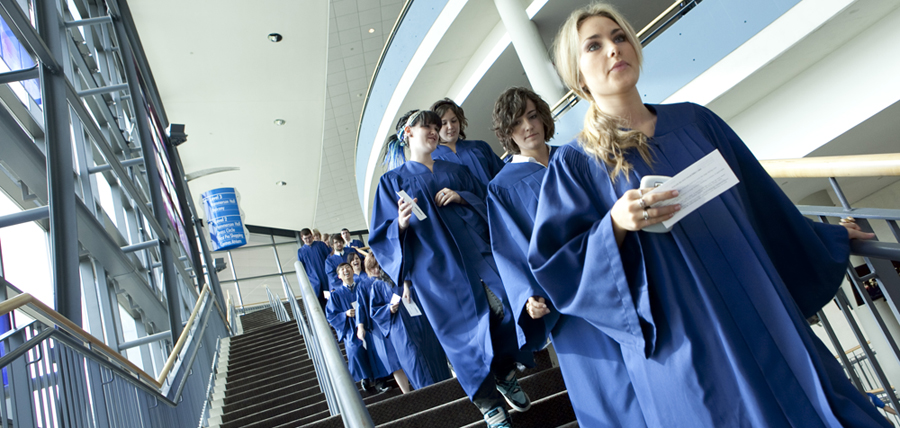 Graduation Gowns
Please return your robe and hoods following the ceremony. Robes and/or hoods removed from the Living Arts Centre will be charged to the graduate.
Available for sale at convocation will be:
Frames for sale by the Alumni Office for your degree, diploma or certificate
Rings and memorabilia for sale from the Sheridan bookstore
Congratulatory floral bouquets for sale
Professional photography services will be available for you during Convocation.
Video of the entire ceremony will be for sale at the end of your convocation ceremony.
Lifetouch Canada Inc will be onsite to capture you crossing the stage during the convocation ceremonies. Should you wish to receive proofs after your ceremony, you MUST check the consent box while completing the online Convocation Ceremony RSVP form. If you have consented, Lifetouch Canada Inc will email graduates directly with details on how to view your proofs, following convocation.

A Sheridan Information booth will be located in the lobby of the Living Arts Centre for any additional information you may need.
Accommodations
Overnight accommodations are available at the Sheridan Residence in Brampton or Oakville for $64.95/suite. For reservations, please call our toll-free number 1-877-225-8664 and ask to be transferred to your preferred location.

When making your reservation, please ask for the Sheridan Convocation rate.