If you wish to attend Convocation 2019, please complete the following:
See the Convocation Ceremonies page for details about guest tickets, schedules, agendas and more.
Latest Graduation News
Apply to Graduate
Graduation Awards
Sheridan Alumni Benefits
KPI Survey
Latest Graduation News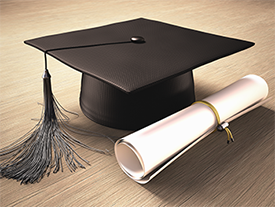 2019 Convocation Ceremonies
Convocation celebrations for student's graduating from a Sheridan program following the Fall 2018 and Winter 2019 semester will take place:
June 10 - 13, 2019


Living Arts Centre
4141 Living Arts Drive
Mississauga ON
Apply to Graduate
You must Apply to Graduate in order to graduate at the end of your final term.
If you intend to graduate at the end of the Winter 2019 semester you must do so by April 18, 2019 or we will defer your graduation to a future term.
If your circumstances change and you no longer wish to graduate, please visit the Office of the Registrar and speak with a Records Specialist.
Please Note: If you have not received an email informing you to Apply for Graduation and believe you are in your graduating term, please visit the Office of the Registrar and speak with a Records Specialist.
Log in to myStudent Centre and click on My Academics.


Beside the Graduation heading near the bottom of the page, click on the Apply for graduation link.



Review and confirm your information is correct, then click on Apply for Graduation.



Select your graduation term (your final term at Sheridan) from the drop down menu and click the Continue button.



Once you have verified all of your information, click Submit Application.


A message will appear indicating that your application has been successfully submitted.


Your Convocation Ceremony
After you have successfully applied for graduation, you will receive email notification (later in April) telling you how to register for your Convocation ceremony, request guest tickets and order your gown. Stay tuned to your Sheridan email. Further details are available on the Convocation page.
Graduation Awards
The Office of the Registrar will apply awards for academic achievement as noted below. These awards are presented at our Convocation ceremonies and are also noted on the student's official Sheridan transcript.
Honours Standing
Students whose Program Cumulative GPA at the time of graduation is equal to or greater than 3.60 and less than or equal to 3.89 will be awarded the status of Honours.
High Honours
Students whose Program Cumulative GPA at the time of graduation is equal to or greater than 3.90 will be awarded the status of High Honours
Silver Medals
The Board of Governors awards at Convocation a silver medal to the graduate with the highest Program Cumulative GPA in each program. In order to qualify, students must have achieved a High Honours academic standing. In the event of a tie, both students will receive the award.
Governor General's Academic Medal
The Governor General's Academic Medal is awarded to the student who achieves the highest overall program average upon graduation from a diploma-level, postsecondary program (minimum two year, full time duration). The Office of the Registrar will identify potential candidates based on grades. In situations where there is a tie, the Office of the Registrar will seek from the Faculty all numeric grades for courses within the program of study in order to determine the final award recipient.
Alumni Benefits
Upon graduation, you will join the Sheridan Alumni Association. As a member, you will receive an annual alumni digital magazine, Ovation, plus our monthly e-newsletter, exclusive event invitations and benefit offers from affinity partners. For more information about the benefits and services available to you as an alumnus, please visit the Sheridan Alumni website.
There are many ways to stay connected with Sheridan following graduation, including:
KPI Survey
As a Sheridan graduate, you will be receiving a call approximately six months following your graduation from Forum Canada, a research firm contracted by the Ministry of Training, College & Universities.
This firm will be collecting information for the Key Performance Indicator (KPI) Graduate Satisfaction Survey, to be followed by the KPI Employer Satisfaction Survey. The purpose of these provincial surveys is to measure Sheridan's effectiveness in preparing you for the workplace. The results have an impact on both the college's level of provincial funding as well as determining future curriculum and program direction.
Forum Canada requires your consent to contact your employer for their input to the employer survey. We encourage you and your employer to participate and make a difference to Sheridan's future.