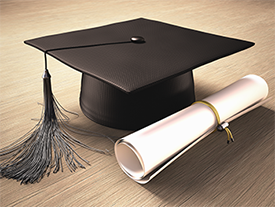 2019 Fall Convocation Ceremonies
Convocation celebrations for students graduating from a Sheridan program following the Spring/Summer 2019 semester will take place:
 October 16 to 17, 2019


Living Arts Centre
4141 Living Arts Drive
Mississauga ON
If you're in your final semester and you wish to attend Fall Convocation 2019, you will have to:
Apply to Graduate

Apply to graduate to confirm that you wish to graduate once you have satisfied your program requirements. Click here to find out how you can Apply to Graduate.


Register for your Convocation
Register for your Convocation ceremony to confirm your participation, book your guest tickets and order your gown. Click here to find out how to Register for Convocation.