The deadline for online course swaps for the Fall term is Monday, September 9, 2019.
Students can swap an assigned class for the same class at a different time or day.
Both full-time and part-time students can swap class times online.
---
How to swap a course
Step 1: Open Course Swap in myStudent Centre
Select Enrollment: Swap from the Academics drop down menu and hit the ›› button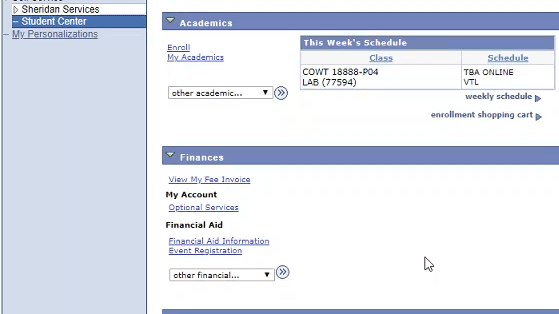 Step 2: Search for eligible classes

To begin select the class you wish to swap and click Search to search Sheridan's course catalogue for eligible courses.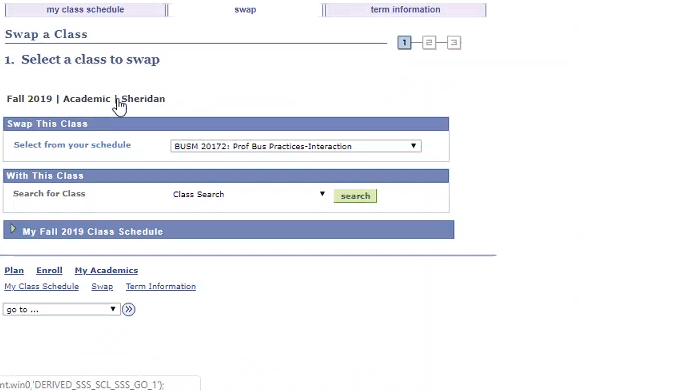 Step 3: Select classes
Select the class you wish to swap to. If the search returns no classes you may need to widen your search criteria or no classes with free places are currently available. Click the "View All" link to see additional classes.
Click Next when prompted to proceed with your swap.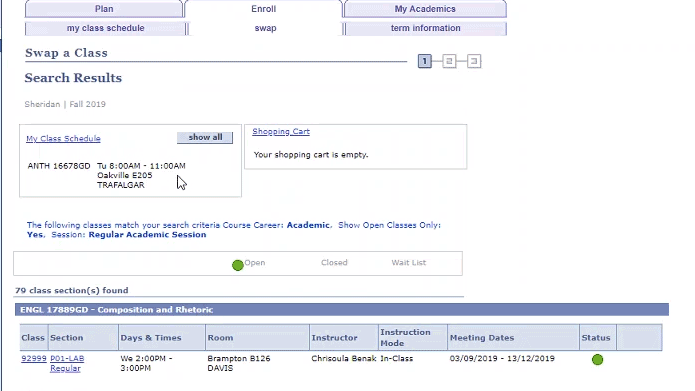 Step 4: View detailed class information

Review the class time and location and click "Next" to continue.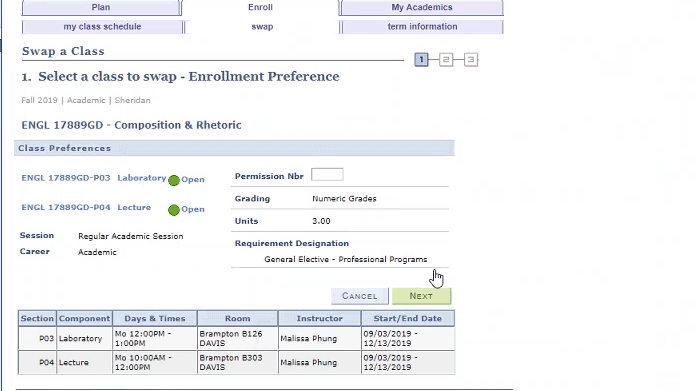 Lecture/lab courses
When swapping a class with a lab component you will be prompted on a new screen to select the lecture/lab component that coincides with the class you chose to swap to. Select this component and click "Next" to continue swapping. 
Step 5: Confirm your swap selection

After reviewing the class information, click Finish Swapping to confirm your swap selection.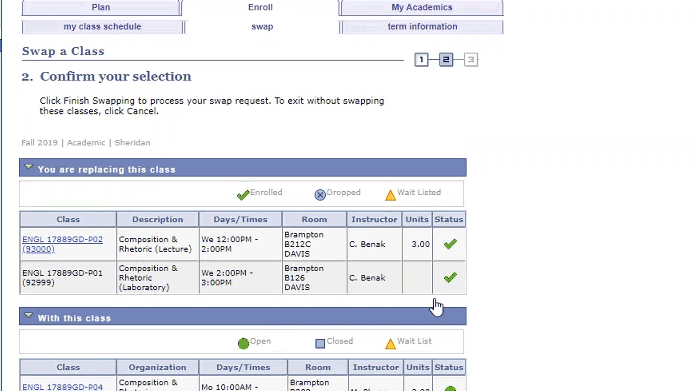 Step 6: View the result of swap request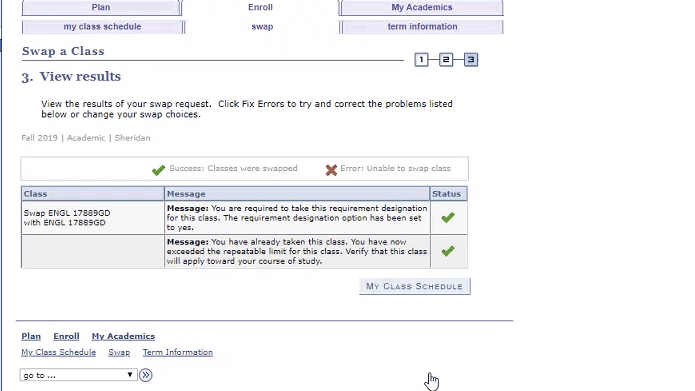 ---
Swap Restrictions
Students are not able to swap classes in all instances. Please note the following:
Students cannot add a class if there is a time conflict with another class.
Students cannot add field placements or co-op classes*
Each student is assigned an expected course load based on their current level in their program. Students are unable to exceed this course load using the online course add functionality.
* with the exception of PECED - Early Childhood Education; PECEP - Early Childhood Education (Part Time) ; PCESD - Educational Support (full & pt)
Program and Course exemptions may also apply.
Program Exemptions
The following programs are exempt from class swaps:
Faculty of Animation, Arts and Design
PASEM
Advanced Special Effects Makeup, Prosthetics and Props
PBAAA
Honours Bachelor of Animation
PATAF
Advanced Television and Film
PBAAI
Honours Bachelor of Illustration
PBGDS
Honours Bachelor of Game Design - First & Second Year
PMDAF
Media Fundamentals
PPAPN
Performing Arts – Preparation
PTPPA
Technical Production for the Performing Arts Industry
PCVAD
Visual & Creative Arts (3 Years)-First Year
PCVAT
Visual & Creative Arts (2 Years)-First Year


Faculty of Applied Health and Community Sciences
PBAHS
Athletic Therapy (Honours Bachelor of Applied Health Sciences)


Faculty of Applied Science and Technology

Due to the specialized nature of FAST programs, online add, drop or swap will not be available to FAST students in their first semester.

This option will be available for future terms.

Faculty of Humanities and Social Sciences
PBCWP
Honours Bachelor of Creative Writing and Publishing
PTESL
Teaching English to Speakers of Other Languages (TESOL Plus)


Pilon School of Business
PBAFC
Business Administration – Finance (Banking and Wealth Management): First Year
PBPRI
Business Process Management
PMKMC
Marketing Management Coop

PMKMT
Marketing Management
PPRJM
Project Management
Course Exemptions
Enter a course number or name to see if a course is excluded from online swap



| | |
| --- | --- |
| Course Number | Course name |
| FLPL23921 | Workplace Preparation |
| FLPL28263 | Field Placement |
| OADM26220 | Administrative Simulation |
| OADM20102 | Project Management for OA |
| HEAL58559 | Occupational Health & Safety |
| ENGI57539 | Water and Wastewater Treatment |
| ENGI50855 | Environmental Laboratory 1 |
| ENGI15064 | Industrial Practices |
| HIST18653GD | Art  - Social/Cultural Context |
| QUAL50656 | Fundls & Principles Qual Assur |
| TELE16048 | Intro to Communication Networks |
| INFO25436 | Electronic Media 2 |
| TECH16214 | Building Materials 1 |
| PROG10082 | Object Oriented Prog 1 - JAVA |
| ENGI12195 | Practical Circuits |
| ENGI19723 | Mech Drafting Fundamentals |
| CHEM55600 | Sampling and Analysis |
| QUAL53273 | Statistical Quality Control |
| CSRV24143 | Professional Practice Issues 2 |
| INFO33672 | Electronic Media 3 |
| COSM11254 | Fundamentals of Makeup Appl. |
| PMTC91003 | Trade Theory |
| MWIM92008 | Machine Technology 2 |
| MWIM93006 | Workshop Practice 3 |
| MWIM93009 | Machine Technology 3 |
| ARCH12356 | Architectural Studio 1 |
| MATH15910 | Math Applications 1 |
| QUAL51210 | Quality Planning |
| LIFE12913 | College Success 2 |
| LIFE15291 | College Success 1 |
| JOUR27545 | Broadcast Mag Show Prep. |
| TECH59599 | Mnfg &Process Control Concepts |
| HEAL27485 | Health, Work and Safety |
| DSGN53871 | Web Design 1 |
| DESN21044 | Graphic Design 1 |
| CHEM14438 | Introd. to Pharmaceutical Comp |
| ENGI10102 | Gas Metal Arc Welding |
| ENGI13431 | Shielded Metal Arc Welding 2 |
| PMTC91001 | Trade Calculations 1 |
| PMTC91002 | Trade Blueprint Reading 1 |
| JOUR23314 | Broadcast Magazine Production |
| MATH13431 | Mathematics for the Trades |
| MATH50027 | Engineering Statistics |
| MWIM92011 | Power Transmission |
| MWIM93005 | Electrical &Electronic Ctrls 3 |
| ADVG39402 | Advanced Creative Development |
| ADVG38263 | Integrated Marketing Comm Mgnt |
| ENGI12578 | Electricity 1 |
| ENGI14998 | Precision Machining 1b |
| HIST12797G | Architectural History |
| PMTC91004 | Trade Practice |
| GMCH92001 | Trade Calculations |
| GMCH92002 | Trade Blue Print Reading |
| GMCH92003 | Trade Theory |
| GMCH92004 | Trade Practice |
| GMCH92005 | Computer Numerical Control |
| GMCH93001 | Trade Calculations 3 |
| GMCH93002 | Trade Blue Print Reading |
| GMCH93003 | Trade Theory |
| GMCH93004 | Trade Practice |
| TLDI92001 | Trade Calculations |
| TLDI92002 | Trade Blueprint Reading |
| TLDI92003 | Trade Theory |
| TLDI92004 | Trade Practice |
| TLDI92005 | Computer Numerical Control |
| TLDI93001 | Trade Calculations |
| TLDI93002 | Trade Blueprint Reading |
| TLDI93003 | Trade Theory |
| TLDI93004 | Trade Practice |
| TLDI93005 | Computer Numerical Control |
| MWIM91002 | Drawings and Schematics 1 |
| MWIM91005 | Electrical & Electronic Cntrls |
| MWIM92002 | Drawing and Schematics 2 |
| MWIM92005 | Electrical & Electronic Ctrls |
| APPL50229 | Interactive Coding 1 |
| TECH50199 | Plant Layout |
| INFO10111 | Systems Loss Prevention Method |
| MWIM91009 | Workshop Technology 1 |
| MWIM91010 | Rigging and Hoisting |
| CSRV20691 | Professional Practice Issues 1 |
| MEDA53431 | Audio Video |
| JOUR20000 | Broadcast Beats |
| APPL57198 | Web Application Development |
| COMM20918 | Convergent Media Writing |
| MWIM91006 | Welding and Fabrication 1 |
| COMM15586 | Workplace Preparation |
| INFO40065 | Electronic Media 4 |
| ANIM45436 | Senior Animation Project |
| FLPL20493 | Professional Practice 1: GER |
| ENGI14310 | Shielded Metal Arc Welding 1 |
| JOUR10036 | Multi Platform Reporting |
| CULT10001G | Impact of Culture on Workplace |
| INFO20408 | Digital Media Principles 1 |
| FLPL24310 | Professional Practice 2: IRS |
| FLPL28823 | Professional Practice 1: IRS |
| ANIM47028 | Capstone Anim Proj & Bus Pract |
| FLPL29014 | Professional Practice 2 GER |
| MATH10025 | Mathematics for Computing |
| MATH14998 | Computer Mathematics 1 |
| TECH53315 | Manufacturing Processes |
| TECH54718 | Operations Management |
| MATH19402 | Fundamentals of Tech Math |
| QUAL54251 | Int'l Standards for Quality |
| MACH17370 | Intro to Industrial Trades |
| ARCH17991 | Architectural Detailing Reside |
| MACH16367 | Intro to Construction Trades |
| ENGI10025 | Exploring Engineering Tech |
| CADD20229 | Comp. Assis Des for 3D Models |
| ANIM30123 | Animation Production |
| DESN29207 | Graphic Design 2 |
| FLPL30065 | Professional Practice Issues 3 |
| NURS25142 | Nursing Clinical 4 |
| GMCH93005 | Computer Numerical Control |
| MWIM91008 | Machine Technology 1 |
| TECH10065 | Residential Prints & Standards |
| ADVG34178 | Media Management |
| JOUR18081 | News Editing/Shooting/Audio |
| ANIM30102 | Storyboard Adv Story Structure |
| ADVG37028 | Advertising Campaign Mgmt |
| MWIM93007 | Welding and Fabrication 3 |
| ENGI11044 | Precision Machining 1a |
| ANIM36529 | Anim: Classical & Stop Motion |
| ANIM30261 | Storyboarding: Proj Dev |
| TECH19599 | Exploring I.T. |
| JOUR14049 | Production for Broadcast News |
| ANIM30146 | Layout and Production |
| ENGI10146 | Engineering Graphics |
| MWIM91007 | Workshop Practice 1 |
| COMM17028 | Broadcast/Social Media Writing |
| JOUR10261 | Editing/Shooting/Photography |
| ADVG25892 | Advertising Campaign Develop |
| PROG10004 | Programming Principles |
| ENGI19599 | Electrical Trade Safety 1 |
| MGMT53567 | Project Management 1 |
| FLPL13796 | Professional Practice Issues 1 |
| ENGI16367 | Welding Trade Safety |
| SYST18713 | Intro to UNIX Operating System |
| COSM13314 | Hair Styling for Cosmetics |
| ENGI54635 | Metrology |
| MATH18634 | Mathematics for Plumbers |
| TSKL15586 | Plumbing Theory 2 |
| TSKL17545 | Plumbing Practice 2 |
| ENGI18823 | Codes,Standards & Regulations |
| MKTG36678 | Marketing Management 2 |
| CHEM10371 | Lab Techniques |
| ELCC91002 | Prints 1 |
| FLPL20065 | Professional Practice 2: SSW |
| MATH10002 | Mathematics for Computing -Lab |
| ENGI19014 | Gas Tungsten Arc Welding |
| ELCM93003 | Electrical Theory 3 |
| PROG12974 | Introduction to Programming(C) |
| APPL19402 | Computer Applications |
| APPL19014 | Spreadsheet Power User MSExcel |
| SYST16529 | Business Software Systems |
| ENGI16434 | Electronic Fabrication |
| ELCC91004 | Installation Methods 1 |
| QUAL50172 | Lean and Six Sigma |
| DESN14998 | Intro to Figurative Sculpture |
| ENGI19207 | Precision Machining 2 |
| DSGN54178 | Technology Design Studio 1 |
| PROG18379 | VB .net Programming |
| APPL10302 | Web Design |
| ENGI10408 | Tool Making |
| ENGI17900 | Industrial Electronic Devices1 |
| ENGI19798 | Blueprint Reading for Welders |
| INFO16029 | Problem Solv/Programming Logic |
| FLPL39599 | Field Practicum 3 |
| TSKL18823 | Plumbing Practice & Theory 2 |
| TSKL13431 | Plumbing Theory & Practice 1A |
| INFO56206 | Interaction Design & User Exp |
| ENGI14579 | Welding and Cutting Processes |
| ENGI17545 | Structural Fillet Welding |
| FLPL17721 | Field Practicum 1 |
| TSKL18263 | Blue Print Reading & Trade Doc |
| PROG54310 | Computer Graphics and Animat'n |
| MWIM92006 | Welding & Fabrication 2 |
| MWIM92007 | Workshop Practice 2 |
| HUMN16693G | Human Relations |
| ELCM93005 | Instrumentation 3 |
| ANIM30408 | Layout and Art Direction |
| MATH13406 | Applied Mathematics |
| ELCC91003 | Electrical Theory 1 |
| HEAL16529 | Inter. Comm. Pharm Disp |
| ENGI16048 | Plumbing Trade Safety |
| QUAL55143 | Quality Management |
| JOUR20172 | Television News Production |
| JOUR27198 | Interact & Long Format Stories |
| NURS24717 | Nursing Clinical 3 |
| HEAL53797 | Health,Work,Safety and Society |
| ENGI10009 | Advanced Tool Making |
| CNCM17545 | Cutter Paths and 3D Models |
| MGMT57506 | Environmental Regulations |
| ELEY10146 | Residential Installations |
| PROG56693 | Tools and Data-Drive Design |
| PROG50102 | Game Engine Fundamentals |
| MATH26507 | Discrete Math |
| ENGI53788 | Site Assessment & Remediation |
| ENGI15592 | Applied Electricity |
| APPL10016 | Productivity Software MS Word |
| SYST10082 | Operating Systems Fundamentals |
| ENGI11632 | Commercial Installations |
| JOUR24579 | Daily News Lab Show Prep |
| TELE10025 | Network Foundations |
| MATH10001 | Mathematics for Computing |
| FLPL26206 | Field Practicum 2 |
| FLPL25288 | Professional Practice 1: SSW |
| FLPL48634 | Field Practicum 4 |
| MATH13314 | Intro Mathematics for Chemical |
| TECH55143 | Project Management in Manufact |
| ELCC91005 | Instrumentation 1 |
| ELCM93006 | Canadian Electrical Code 3 |
| ELCM93009 | Electronics 3 |
| SYST10049 | Web Development |
| SYST19866 | Operating Systems Technologies |
| ELCC91009 | Electronics 1 |
| ELCM93002 | Prints & Standards |
| ELCM93004 | Practical Applications |
| HEAL11651 | Intro Community/Pharm Dispens |
| COMM16165 | Tech. Reports & Presentations |
| BUSM14998G | Entrepreneurism-Concepts |
| CADD15298 | Architectural Drafting 1 - CAD |
| FINA30261 | International Field Study |
| HEAL20036 | Health Assessment |
| NURS27721 | Nursing Clinical 2 |
| CHEM16682 | Applied Chemistry 1 |
| ENGI18634 | Manufacturing Trade Safety |
| HIST56529 | History and Theory of Games |
| MATH18584 | Computer Math Fundamentals |
| MATH13199 | Mathematics for Welders |
| MATH17688 | Mathematics 1 |
| MATH22981 | Differential Calculus |
| PROG35142 | Advanced.net Server |
| PROG39599 | Advanced Java Frameworks |
| PROG50016 | Game Architecture |
| SCIE16007 | Environmental Science |
| SYST10049 | Web Development |