myFinances: Academic Fees; Sheridan Awards & Bursaries; Tuition Receipts
Fees & Finances

Academic Fees
Awards & Bursaries
How to Apply for Awards
T2202 Tax Receipt
Student Loans
Academic Fees Information
For both domestic and international students, please visit the Academic Fees page to see all fees related to your program
International Students
International Students Refund Request Forms
---
Fee estimates
Your fee estimate itemizes the fees charged for your program. Students with outstanding charges or other indebtedness will not be eligible to return to Sheridan until all amounts owed have been paid. Payment by the deadline will reserve your seat in a program, allow you to continue in class, write examinations, receive reports, and maintain academic evaluation.
Accessing Your Fee estimate
Log into myStudent Centre with your Sheridan credentials to view your fee estimate.
---
Account Summary

Students are responsible for regularly reviewing their online Student Account Summary and to understand and ensure payment of all amounts owed to Sheridan for each term related to their courses, programs, and studies by the due dates indicated on the student's fee estimate (domestic students) or invoice (international students). This applies to deposits and installments where applicable.
To view your Account Summary:
Log into myStudent Centre
Under the Finances section, open the drop down menu and select "View Account Summary". Click (>>)
Select the appropriate term.
You can see a detailed breakdown of your account activity by clicking on the "View Account Detail" link
How to view your Account Summary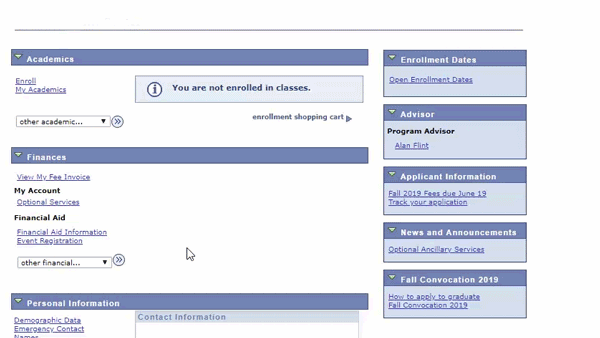 Questions About Fees?
Send email to studentfees@sheridancollege.ca or call 905-845-9430, ext. 2277.

Sheridan Awards, Scholarships and Bursaries
Education is the most important investment you can make in your future. In addition to government funding, Sheridan awards over $7 million in bursaries, scholarships and awards every year.
Sheridan College and our donors provide a range of financial support to help meet your financial needs. The scholarships, bursaries and awards outlined in this section are only those administered by Sheridan College.
Click here to view the 2021-22 awards inventory.
The Awards Office also receives advertisements for various award opportunities that are available through external agencies. A list of external award postings is located on the Online Awards Application under the "Opportunities" link.
* The Winter 2022 General Online Awards application will open on December 14, 2021. The deadline to submit your application is by February 4, 2022.

Eligibility criteria varies, and you'll need to complete the General Awards Application before you can apply to scholarship, bursary and award opportunities. When you submit your application, you'll be matched to different opportunities and will receive an email notification when a new opportunity that fits your profile is posted. To learn more, visit your Online Awards Application via myStudent Centre.
---
Auto-Match Bursaries
The following bursaries will be awarded on an individual basis upon consideration of expenses, income, family status, program level, program cost, and personal circumstances. These bursaries are awarded to students enrolled in a certificate, diploma or degree program on a full-time basis. Recipients must also be Canadian citizens, permanent residents or protected persons. Students just need to submit a General Awards Application to be considered – a separate application is not required for each bursary opportunity listed below:
Sheridan Black Students Bursary
Sheridan's new Strategic Plan entitled Sheridan 2024: Galvanizing Education for a Complex World codifies our institutional commitment to fostering equity, diversity and inclusion. Our goal is to create a community where everyone brings their full potential and experiences, knowing their unique contributions are valued.

On July 16, 2020, President and Vice Chancellor Dr. Janet Morrison signed the Black North Initiative CEO Pledge, committing Sheridan – alongside other leading Canadian institutions – to specific actions and targets designed to dismantle systemic anti-Black racism and create opportunities for underrepresented members of its community. Sheridan has identified funds to support Black students with financial bursaries to help off-set the costs of their Sheridan education. The bursary will be awarded based on financial need to Black students enrolled in a certificate, diploma or degree program on a full-time basis. Recipients must also be Canadian citizens, permanent residents or protected persons. This opportunity is open to new and returning Sheridan students.
Sheridan Bursary
Awarded to both new and returning Sheridan students.

Sheridan High-Cost Bursary
This bursary will be awarded to new and returning students who pay semester tuition that is greater or equal to $2700.

HigherEdPoints.com
Sheridan College has joined the HigherEdPoints.com program. With this new partnership, students (or parents/grandparents) are able to convert Aeroplan® Miles and/or TD Points into funds to help cover fees as well as pay off OSAP loans.
More Information
For more information about awards, scholarships and bursaries, email student.awards@sheridancollege.ca. Students can also speak to a Student Awards Officer over the phone by following the steps at qless.sheridancollege.ca.

How to Apply
Complete your General Online Awards Application
 and your profile will be automatically matched to dozens of Sheridan scholarship, bursary and awards opportunities!
T2202 Tax Receipt
Students and alumni could receive a tax credit for tuition fees, education and textbook costs, provided they have a completed Tuition, Education and Textbook Amounts Receipt (T2202).
T2202s are published each year, at end of February, in myStudent Centre. To learn more about T2202 forms, please refer to these FAQs.
Access your T2202
To view and print your T2202 please follow these instructions:
Go to myStudent Centre
In the 'Finances' section, select 'view my T2202',from the drop down menu and click on the '>>' go button,
At 'Available PDFs' click on the down arrow and select the appropriate year
Click on the yellow button 'View T2202'
In order to read and print your T2202, you will need Adobe Acrobat Reader installed on your computer. This browser plug-in can be downloaded from www.adobe.com. Click on "Get Adobe Reader" and follow the instructions for downloading.
Print your T2202
To print your T2202, click on the Print button on the Adobe Acrobat Reader (do not click on the print button on the browser). Once you have printed the T2202, click the back button.
If after printing your T2202 you have questions regarding your dollars or months entitlement, for Oakville call 905 845-9430, for Brampton call 905 459-7533. Choose option 4 for post secondary inquiries and option 3 for part time or continuing education inquiries.
Lost/ forgotten Sheridan username and passwords
You will need to enter your Sheridan username and password to access myStudent Centre. For assistance with your username and password visit: https://it.sheridancollege.ca/service-catalogue/accounts/student-accounts.html
Student Loans
Ontario Student Assistance Program (OSAP)
OSAP is a financial aid program that can make it easier for students and families to afford college or university. 
The program offers funding for school through two kinds of assistance: 
Grants: money you don't have to pay back
Student loan: money you need to repay
Funding is available for both full and part-time postsecondary students, and is based on a number of factors, including your family income.
When making your OSAP application, we urge you to scan and upload your documents to OSAP directly. This is the quickest way to get your application processed and can shave weeks off of processing times.
See the OSAP web page on the Sheridan website for application information, deadline dates, and more. For frequently asked OSAP questions, please visit Sheridan Central.
Out of Province Loans
If you are an out-of-province student attending Sheridan and wish to apply for government funding, you will need to apply through your home province.