How to view your Timetable
To access your timetable:
Log into myStudent Centre with your username and password
Click on the Enroll link under Academics
Click on Weekly Calendar View – your timetable is date sensitive; fill in 'Week of:' as 09/05/2016
You can only view your timetable provided you have paid your fees.  International students must pay their fees and submit their study permits in order to view their timetables.

Please note: It is sometimes necessary to make changes to timetables. Therefore, it is recommended that students check their timetable during the first week of classes to ensure they have the most up to date version.
Assigned Timetables: Dates and Deadlines
For the Spring/Summer 2016 Term, access to Assigned Timetable and the Add/Swap/Drop services will open on different days for different programs and campuses. The different opening days will not impact the choice of courses and time slots available to students. However, it will speed up the process, reduce the number of technical issues and free up more resources to assist students when required.
ALL DATES ARE SUBJECT TO CHANGE.
Please check the myStudent Centre for your enrolment appointments.
Spring/Summer 2016: Dates for timetable
April 19 (8:30am - 4:30pm)

Appointments for:

Accessible Learning Students

April 19

Timetable preview available. If your timetable is not available by April 21 please email: infosheridan@sheridancollege.ca.

April 21 (7:00am)

Trafalgar, HMC & STC Registration - Course Add, Swap & Drop for all programs

April 22 (7:00am)

Davis Registration - Course Add, Swap & Drop for all programs




April 22

Open Enrollment opens. ALL students who have PAID fees by the deadline have access to self-service enrolment for the Spring/Summer term. Late payments will result in a delay in accessing self-service.

April 25 (8:00am)

Cross-campus Registration opens

April 25

In-person Part-time and Additional Course Enrolment

May 9
Start of Spring/Summer 2016 Term
May 13
Last Day to Add and Swap a course, be admitted to a program
May 20
Last Day to Drop a course/withdraw from a program with partial refund
Postsecondary students who have paid their fees are able to add, drop or swap courses online through myStudent Centre.
Make sure you are aware of the time and location of your classes. Some Sheridan programs have classes scheduled at more than one Sheridan campus. Please follow your timetable closely to be sure that you are familiar with the location of each class. (See the below illustration to identify the class location.)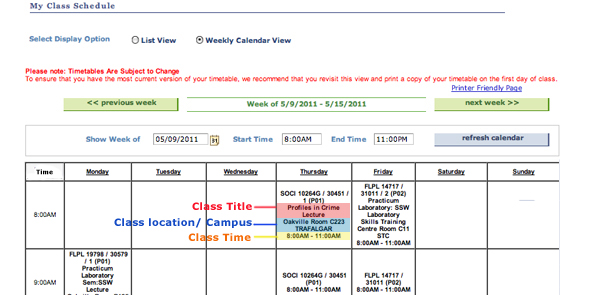 You may be required to choose electives for your program. It is important that you log into myStudent Centre before the start of term to confirm whether your program requires elective selection for this semester.
Click here for more information on choosing your electives
Breadth Electives
Students in a number of Sheridan's Bachelor Degree programs must include Liberal Arts and Science breadth electives as part of their program of study.
Click here for more information on breadth electives